CNC Standing Desk dev report
Hey everyone!
I have baptized my cnc standing desk and will call it zTandingDesk! see the Z? I'm also pretty advanced in the development process.
It will be adjustable to 3 different heights so it fits range of people, and the lowest position is 80 cm which fits also as a standard sitting desk.
Below's the lateral wireframe view of the (not finished) zTandingDesk in 80 cm, 100 cm and 120 cm.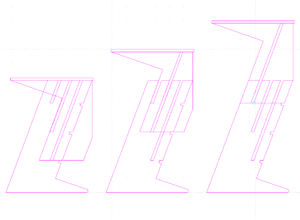 I'm still thinking of ways to add more structural strength mainly for the 120 cm position.
Like it? think it's sucks? got any ideas? feel free to whatever… below.
---
UPDATE: Project finished! plans here: zTanding Desk CNC Plans.